Important Info To Remember
PAY RATE: Earn 60% on your sold items. 80% for Sweet 16 Items.
CONSIGNOR FEE: $15 per sale taken from check at the end. $6 if paid in advance 2+ months before sale. $10 if paid in advance month before sale.
EARLY SHOPPING: Consignors get 2 FREE presale shopping tickets and 4 FREE 50% off presale shopping tickets. Team Members will get 1 additional FREE earlier presale shopping ticket (you must be a consignor to be a Team Member).
Selling: Step By Step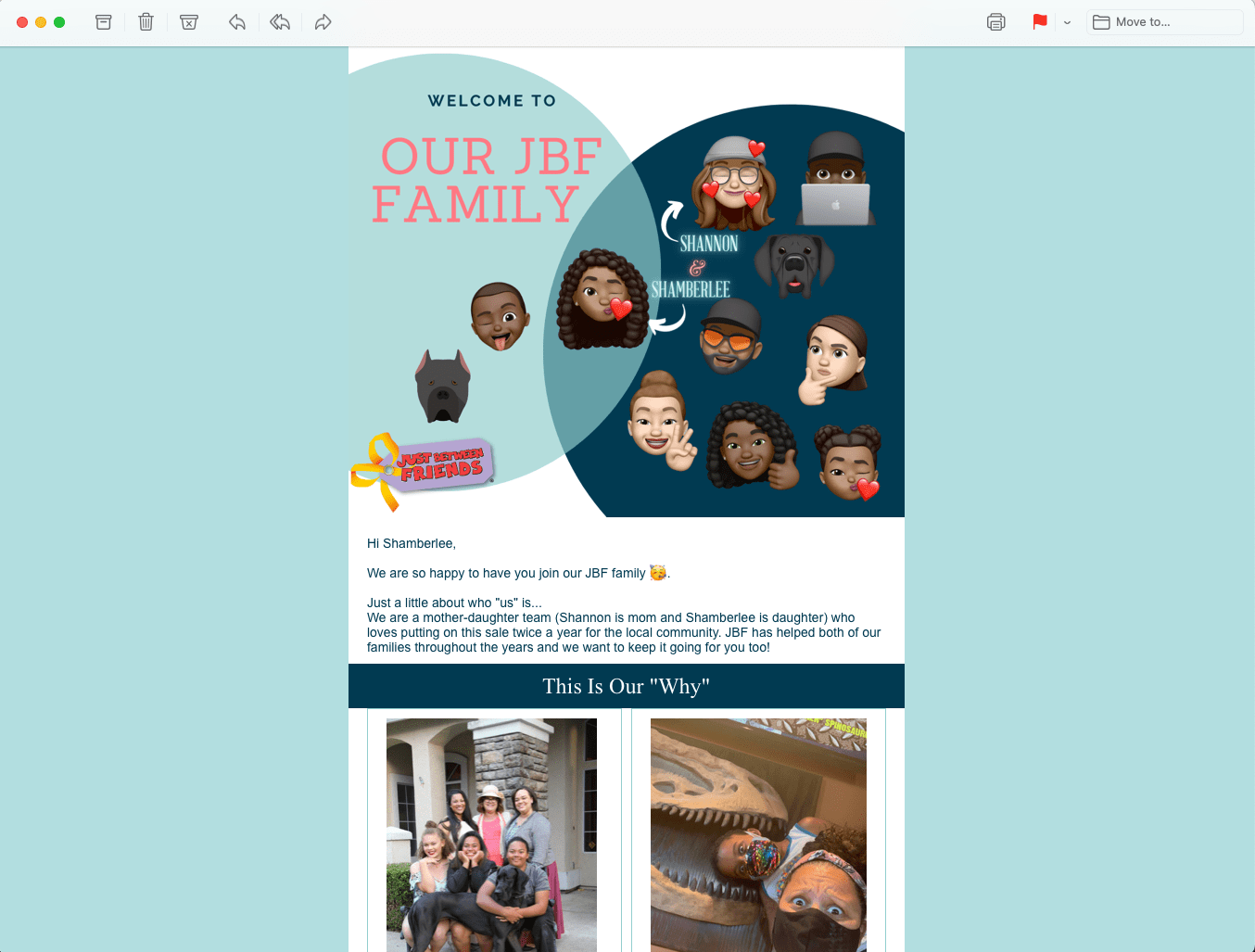 As a new seller you will need to sign up. Click the button above if you haven't signed up already. This gets you on our email series about all things selling. This will ensure you get info about how to sell, reminders for drop off, pick up, and your check!
It is a super easy form that asks for your email and first and last name (you can add your birthday too if you like). You will immediately get sent a welcome email. It will look like this image, introducing you to our family and why we chose to do JBF.
From there you will create an account. This will give you your Consignor Number. This is unique to you and what you tag all your items with.
SWEET 16 PROGRAM
You can earn up to 80% on certain items though our sweet 16 program! These are going to be a certain type of large items, sold above a certain price. Get all the details.
KEEPING FAMILIES SAFE
All items must comply with current safety and recall standards. This guide helps you to know what items cannot be sold at our sale.
Your Consignor Profile
Once you have created an account, you will go to your Consignor Profile and have a Consignor Number. Under "Upcoming Events" is where you can register for the upcoming sale! If there isn't one listed yet, that's ok. You can start tagging and preparing your items to sell at JBF. You can do this all year long since your Consignor Profile is open 24/7. Just click "Tagging" in the upper right corner to input prices and descriptions and printing tags.
Also double check your "Account Settings" to make sure you have the defaults you want (like to reduce and donate your items) and that your email is up to date, this is where we send your consignor check to!
Tagging and Prep
Here is where you can go in any direction that suits your needs. You need to evaluate your items that you want to sell and get the 'How To Tag' info. Our best recommendation is in the order of the tabs. Start big then go small, then clothes. That is the easiest tagging route. If you want to tag in the order of what people buy things, then go The Big Stuff, then Clothes, Shoes and then everything else. This way you know the things people are buying the most get tagged and done first.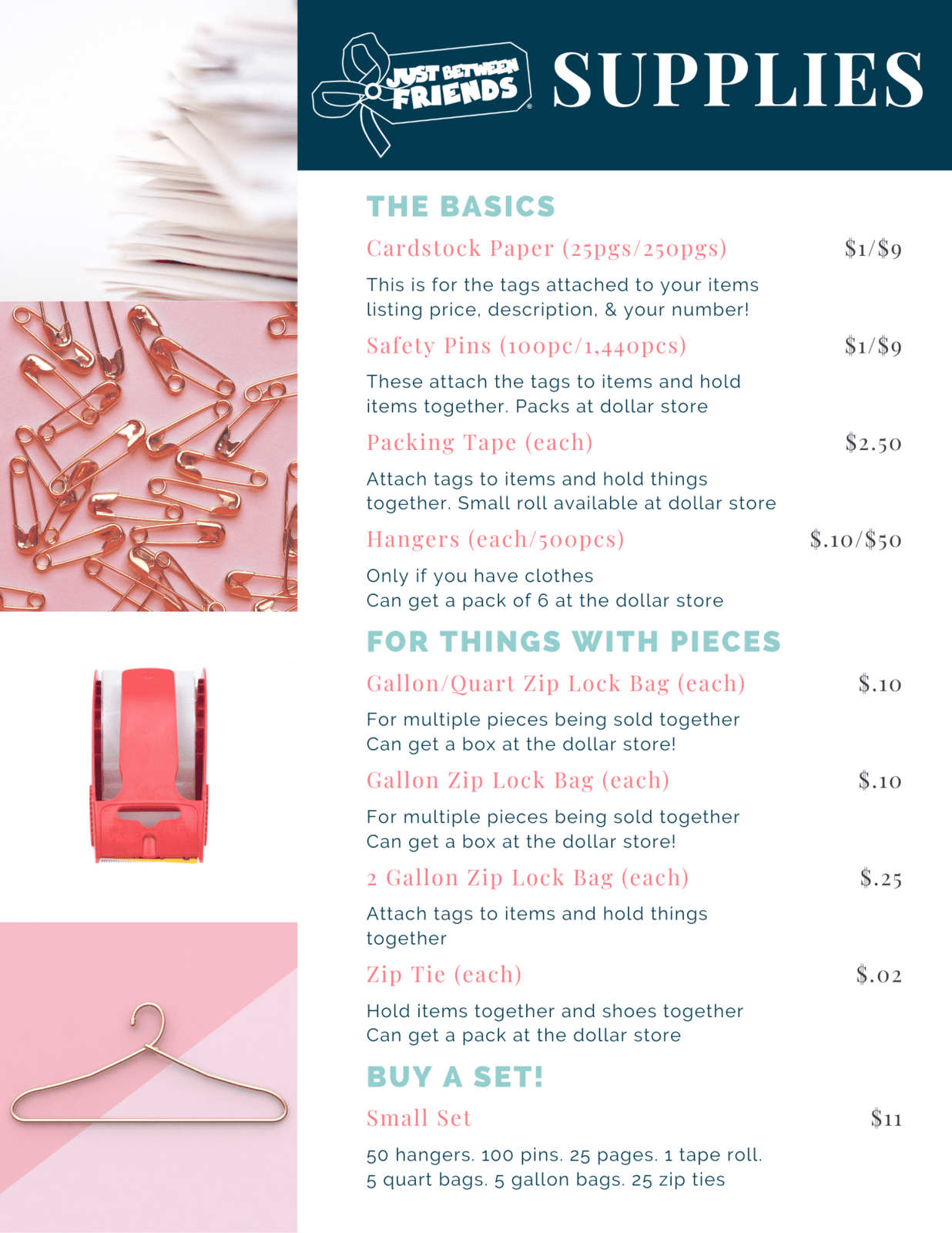 Supplies needed to sell at JBF are pretty simple and most of the items can be found in your home already. We sell all these supplies at what it costs us to buy bulk.
The Basics
Card Stock paper - You want 65-67lbs paper. Anything less tears too easy and anything heavier jams up most printers. The paper should be white so our scanners can read the printed barcode.
Safety Pins - These are used to attach tags to cloth items and clothes to hangers. Size #2 works best and we sell the sturdy kind.
Packing tape - This is to attach tags to plastic items, seal items, and hold multiple items together. I have seen people use scotch tape, but it is not as durable and tags fall off.
Hangers - You can use any hangers you have on hand. We recommend child size hangers for clothes size 5T and under and adult hangers for clothes size 6 and up. You can also hang blankets and backpacks and slings. These are sold with the items so you will not get them back.
All other supplies should just be what you have around the house. Consignors have used plastic wrap for puzzles, those clear fruit containers for small toys, clear bags from amazon purchases, and so many other creative ways!
The goal is to keep things together and visible.
To purchase supplies from us just send us an email: shannoncmc@jbfsale.com
Here is a visual representation of where all the sections of the online tagging system shows on a tag. Here are some quick tips:
Season and Category are to help you find items
If the Price or reduce are changed then a new tag needs to be printed
If you have multiple of the same item, input QTY (quantity) up to 20. If you have more than 20 then you need to go to the next line
The BEST way to enter a description is:
Brand | Words or Design | Color | Item Description | Retail Price (if known)
ex: Carters dino snuggles blue white stripe zip sleeper retails $8
Why is this the recommended way?
Great question! If the tag falls off an item, shoppers bring it up to us to look for. I would look for brand and words first and search those key words then match to size and color in description. If you describe it a "blue sleeper" that is not descriptive enough for us to make a match, which means we can't sell it.
This is where the biggest jumps in your check happen! If you have these items, bring them. They sell very well. Plus many of these items qualify for the Sweet 16 program and can earn up to 80% profit instead of the standard 60%.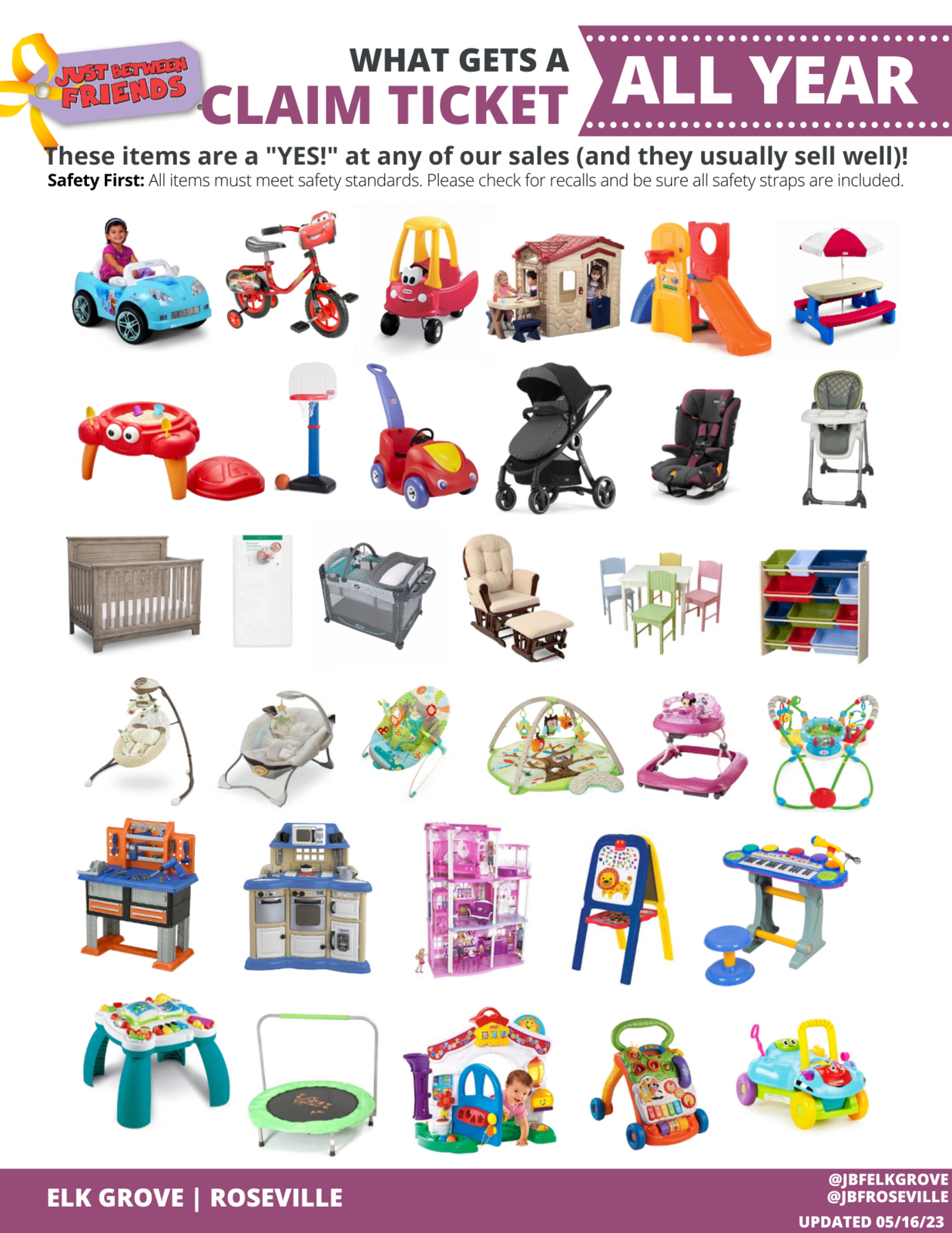 Key things to get these ready to sell
Clean: If it has been sitting outside for a while a simple wipe down will do wonders to the shopping eye.
Working: Make sure it is working. All the buttons, doors, sounds, everything. If they can test it when shopping the more likely it is going to sell.
Set Up: At drop off making sure it is set up. Pack and plays don't usually sell when they are still in the bag. Take the time to set it up at the sale will help it sell.
The BEST way to enter a description is:
Brand | Words or Design | Color | Item Description | Retail Price
ex: Graco Lamb white grey every way soother swing retails $208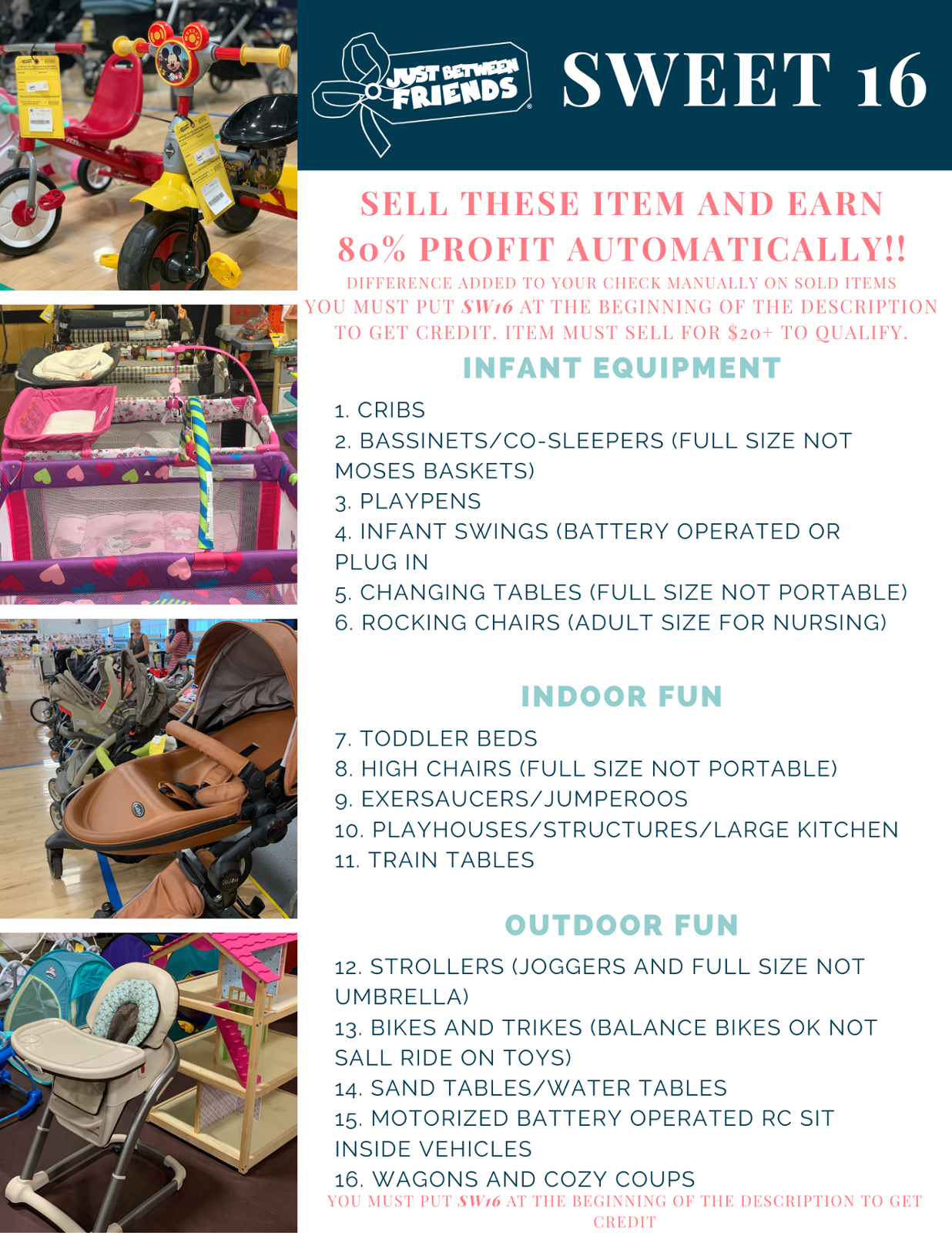 Sweet 16 Program
You can earn up to 80% profit for selling these "Sweet 16" items! These are our HOT sellers and we want you to get the most back for these items.
To participate:
When entering the description when tagging in your Consignor Profile, you want to put "SW16" at the beginning of the description. It has to be added in the computer and not handwritten on the tag.
Example: SW16 Graco Lamb white grey every way soother swing retails $208

For the item to qualify:
It must be an item listed on this Sweet 16 list pictured here (you can click the image to see it larger) and the item must sell for $20 or more. So if you price something for $30 and it sells for $15 at the half price sale it will no longer show up in our search.
How you get paid:
At the end of the sale, we pull all the sold items and search for "SW16" with a sold price of $20 or more. Then we add the difference to your check manually. So if you sold a crib for $100, your online account will show $60 and we will add $20 to your check. If you don't put "SW16" in the description then you will get the 60% like normal.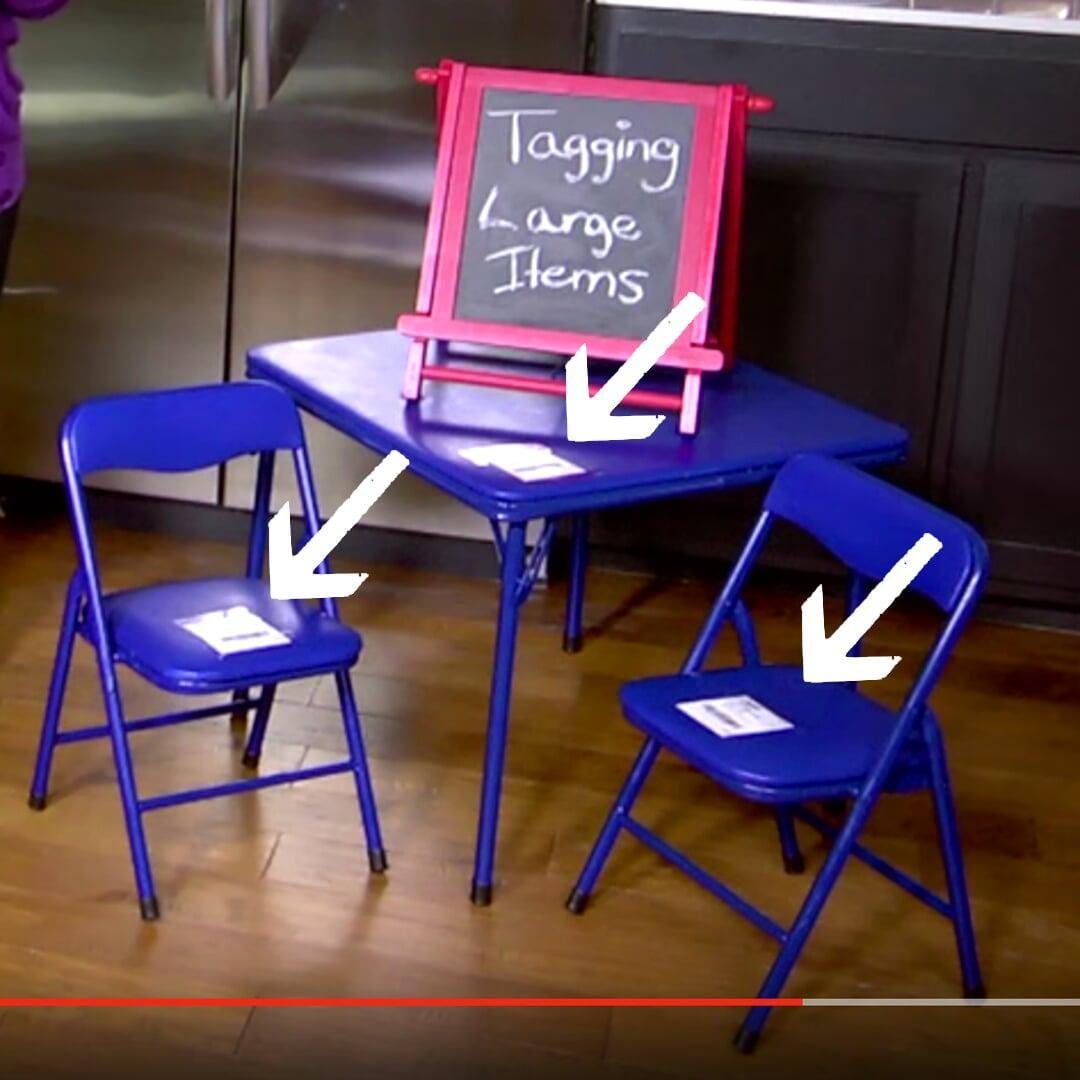 Large Items With Multiple Pieces
Some times large items come with additional pieces, table and chairs, train table with pieces, large foam blocks, etc. There are two options to tag them. Both ways are relatively the same, but the idea is to have everything marked with your Consignor Number so we know who it belongs to.
Option 1:
In your consignor profile, where you input tags, you make one tag with the Price and description 1 of (# of pieces), then make an additional tag with the description that says "2 of (# of pieces) but the price is zero. You can make as many additional tags for pieces you have.
Option 2:
In your consignor profile, where you input tags, you make one tag with the Price and description 1 of (# of pieces), then you write on a small piece of paper your consignor number and "2 of (# of pieces). Same concept just less card stock and ink.
Sale Time Info
Now, when it comes time for the sale, here are all the details that you need to know!